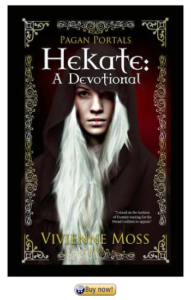 I have had this little gem on my desk for a while now, and as I have five minutes on this smashing Friday afternoon I thought I would take some time to tell you about it.
I'm not always keen on devotional works, but this book is head and shoulders above most books of that ilk. It's been an absolute delight to read. Well edited. Well formatted and most importantly well written.
Seriously I've read a few book recently that would make your hair curl so this was REALLY refreshing.
The book is arranged into eight chapters covering such subjects as Household shrines, Crossroads, Death and Transformation. Vivienne has a fluid and gentle "voice" that smacks of someone that has done the work. Her writing in passionate and intensely personal. I couldn't help but smile at the following statement:-
The writing of this book is an offering to Hekate. The sacrifice is knowing that not everyone will agree or like what I say within these pages. Some, I'm sure, will not understand the way I see and feel Hekate. I may get negative feedbacks, or worse, none at all. Maybe some will laugh or be offended with what I have written. That is the chance I am willing to take. For Hekate – for myself. Even if just one person is touched by this devotional then it will be worth it.
I could feel that statement deep in my soul, having been there myself it is a deep knowing you cannot shake. Well I am not laughing, I am applauding. I think this is a wonderful book and if people havent bought it I want to know why not. Because Its NOT been put out there to cash in on what is currently a very popular market. Its a work of magick in the truest sense of the word. Well done Moon Books for publishing it and well done Vivenne for writing it. I hope we get to meet someday I think we might have a lot in common.