I actually thought I'd written about this before, but a search of the site suggests otherwise. I know Ive joked about it online in recent years and my close friends have heard this story at least once. And the synchroncities keep getting such that for at least 2 years I've been meaning to make this blog post. But something happened tonight that I feel its time to put my thoughts out to a wider audience. A few years ago now I had the pleasure of meeting Marian Greene, the author of A Witch Alone. Being a bolshy and decidedly arrogant young thing I didn't hesitate to give her the benefit of my opinion regarding the quality of her work. Specifically what I thought of a particular chapter in her book The Path through the Labyrinth. It's actually an excellent book, but somewhat dated, and is difficult to get hold of which is why I don't recommend it very often. However, it has some interesting concepts and ideals that would leave some spitting feathers. I know I did.
The biggest gripe I had. In fact the primary reason the book hit the deck and the wall more than a few times related to the following paragraph
The Cup or the Chalice, Goblet or Cauldron should always be a gift of love, received by you unasked. If no one loves you enough to give you some symbolic token which can stand in for your magical cup, then the Goddess won't love you either!
It took me a long time to get past that statement, how ridiculous and condescending. So much so that until recently the rest of the paragraph was lost in a haze of irritation and frustration. I think I even made several comments both at the time and in the intervening years that if "the gods" demanded such things as a criteria for their love then I neither needed them nor wanted them. How rude and presumptuous. And with those thoughts in my mind I went barrelling through my life. And life is hard and requires a lot of barrelling. It was easy to not worry about the rest of the paragrapgh. To forget it even….except I couldn't.
To be worthy and respected, loved and wanted is the only way to thread the maze of relationships between the human and magical levels. Love yourself, become worthy of loving, love others honestly and you too will be loved and rewarded.
And why couldn't i forget it you ask, well this is why I cant.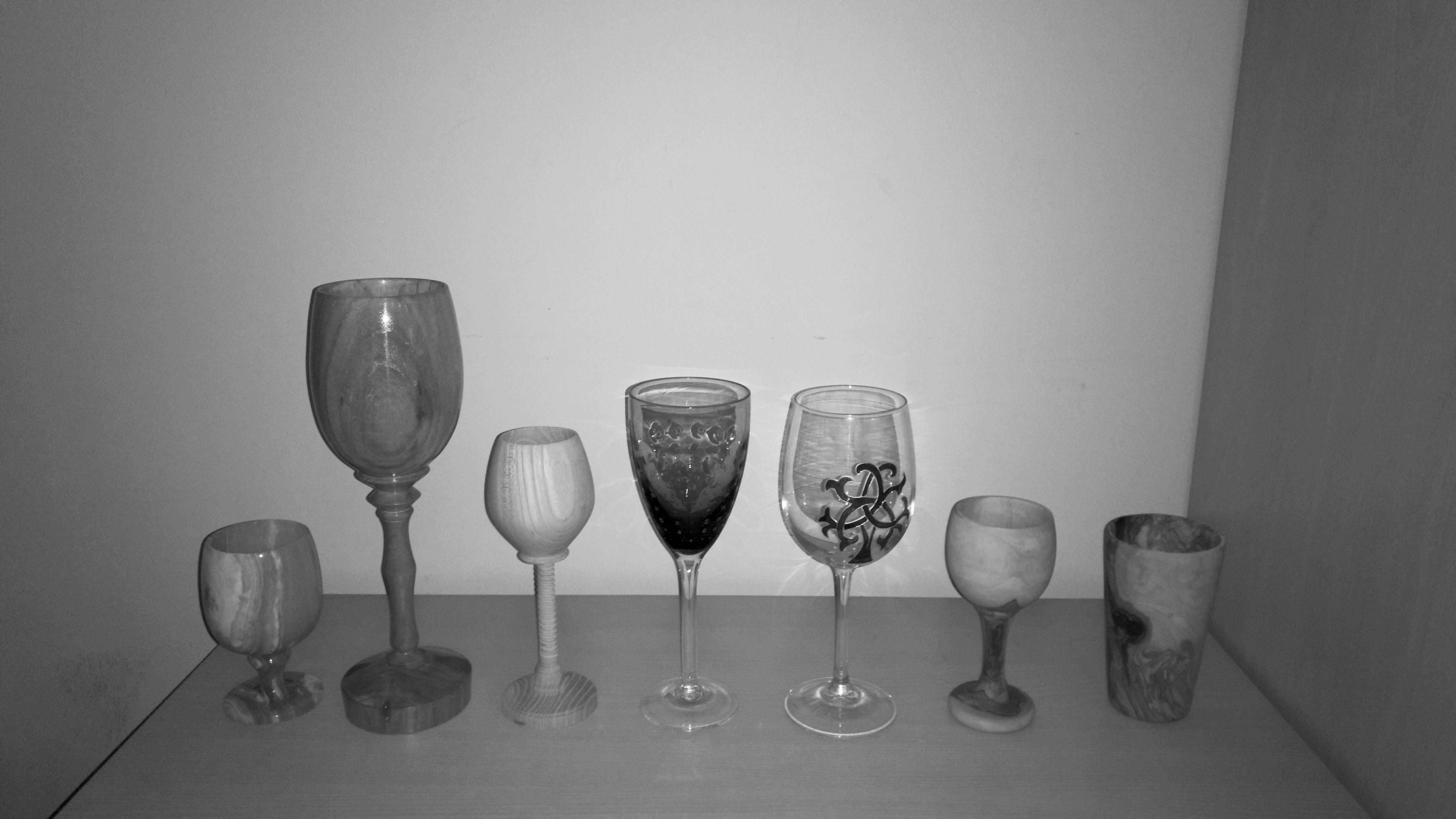 Let's go through this little tale of joy. So the universe apparently likes to take the mick just a bit. My first chalice came fairly shortly after my first big public rant about how people in the closet would be crushed by such off hand statements about the Goddess' love. A lovely lady named Jay and I were in the charity shops after doing a few days of intensive elemental and tantric work, there were two Agate cups the same, she grinned and so did I. It was a bond, and more so she wouldn't let me pay but gave me one of the pair. A permanent and wonderful memory of our magick.
The second two are gifts from my mother, the first she commissioned when I became HPS of my own Coven and I bemoaned the inadequacy of Chalices in large rituals, so she had made a chalice in English elm that would hold a half bottle of wine and then some. Shortly after was my birthday so she also had a one person sized Chalice made. Then came a gift from my then best friend who wrote one of the most important rituals of my life. Followed swiftly by a birthday gift by my current High Priest and High Priestess. I am sure by now you are all laughing. But none more so than me, because when I was feeling very low today as the result of a few friendship transitions, I got given two stunning Olive wood cups by a wonderful friend.
Apparently the universe likes to remind me, that people do love me, when i hit down on the emotional elevator, somebody is there, when I have a major landmark, then apparently the goddess loves me enough that someone else channels it. And reminds me I am worthy and respected enough that the Goddess gives me cups*
*NB Please don't ever stop giving me cups, it seems i need them and i certainly want them because if nothing else when i am feeling low i can look at them and remember when the Goddess loved me haha!