Trees, Ogham, musings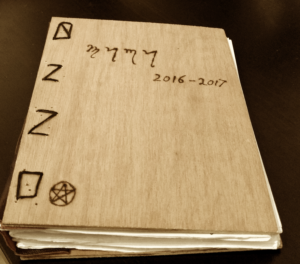 I had planned to start my new year with a study of the Ogham, I have a lovely journal that a friend gave me. Its hand made, quite literally of wood, so it seemed perfect for my needs. There was absolutely nothing stopping me. And yet January rolled past and Imbolc arrived and for reasons that completely escape me, nothing was written in my natty little journal. I couldn't really put my fingers on why I couldn't start.
The weeks passed by and I found myself getting increasingly irritated with my non action. Anybody who knows me well knows that whilst I have the propensity to be lazy my default mode of operation is busy, and doing more than most would deem possible. And I had free time because I had also decided that this year would be the year that I learnt how to say "no". So I was only taking on projects that excited me. It isn't even like I'm a complete towney who doesn't know her chickweed from her cleavers, or oak from birch. This should have been easy, flowing, logical even.
The Ogham has been neatly compartmentalised into different aicme (groups), and in more modern times thanks to the ubiquitous Robert Graves they've been assigned months. So what could be easier. In January I would study The Rowan, February it would be The Ash, and so on. It was only when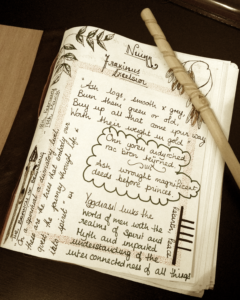 I was writing up some practical exercises that meant absolutely nothing to me that it hit me. I was so tied up with the book learning, the ordering, the sequences, that I was completely ignoring the experiential. The single most important thing. Without the experience then we are nothing more than armchair academics, not people fully here in the present, experiencing all that life has to offer. And then I froze, unable to progress.
I know I am not the only person to get this way. We spend our lives regimented, ordered, encouraged to fit into little boxes of explanation and routine. It allows us to make sense of the senseless and derive meaning from the meaningless (but more about that another day). But nature, it's messy and higgledy piggledy. It happens when it wants, where it wants and pretty much how it wants. Yes there are structures and patterns within it, but it isn't regimented. Ash Trees burst their buds when the weather has been sufficiently warm enough not because somebody once wrote that they had to sometime around Mid-March. So when we are presented with fuzzy boundaries we stop, try and make the patterns and connections, fit things into little boxes again before we move onwards. So there I was frozen. Then whilst preparing a lesson for a Tarot study group that I run, (which was also failing to fit into designated temporal and physical boxes) I read this lovely quote by the multi-talented Mark Ryan who co-created the original Greenwood Tarot, which has captured the hearts and minds of so many people.
The best advice I ever got about Tarot was: 'Read the book, meditate with the cards, then put the book away and do your own thing'
I needed to do what I do best, get messy, get dirty, get loud, mix it up and work with what inspired me at the time it inspired me. Be wild, beautiful and unruly. Be that Midday or Midnight, March or May. Forget the tree calender, sure put it in my notes, its an interesting tidbit, forget documenting the trees according to some unfathomable pattern that only the mind of a 20th century genius poet could ever understand. Read the books, meditate on the tree and then put the books away and do my own thing.
Really sometimes moving forward can be as simple as that. Put the books away, sources are really important, but not to the point that you are frozen in academic analysis.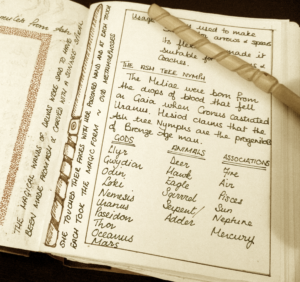 And of course the minute I let go, the inspiration began to flow. I realised that I'd been working with a number of Ogham woods for a very long time, it didn't matter that they belonged to different aicme or that they might be studied out of order. And of course the irony the wood I chose as my first study was The Ash just as it's calendar month came around, but you can rest assured the rest won't fit into that construct. Continue reading →